Good morning.
CLP's Nearshore Cleanup Demonstration Project, lead by Mike Latone, was completed last Wednesday. 8 days were then spent optimizing HydroRake/barge operations and performance testing. We proved the HydroRake-based concept, cleaned several thousand feet of the Bay and identified improvements to equipment/process for 2018.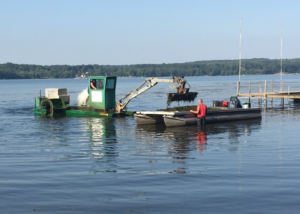 Relative to the combination of the June 26 herbicide treatment and the shoreline cleanup operation, we're getting comments similar to "Bemus Bay looks better than it has in 15 years" and "Bemus Bay looks better than ever" from residents, visitors and County officials.
At our request, CLA suspended weed cutting along the Town of Ellery shoreline in Bemus Bay in late June prior to the herbicide treatment. With Curly Leaf Pondweed gone and Eurasian Water Milfoil greatly diminished, we've extended the weed cutting suspension through the end of the season. However, not unexpected, fragments continue to float in but at a much slower rate than in the past. Pockets of floating and grounded weeds remain in some parts of the Bay.
Fortunately, prior to the arrival of the HydroRake, while testing the "back end" (transport/disposal) equipment, Mike's team developed a highly-efficient manual process using "bare bones" inexpensive equipment. We expect to receive $25k of the $100k recently released by the County to the Chautauqua Lake and Watershed Management Alliance for "late season" operations. This will allow us to continue nearshore cleanup in Bemus Bay and nearby areas into September improving lake access and reducing odor. This $25k would be in addition to the $10k the County previously promised in response to the CRCF's challenge grant.
Don't forget to attend the County/Alliance-sponsored "Celebrate the Lake Breakfast" at The Village Casino Saturday, August 19, 9:00 to noon. CLP will have representatives on the CLP/CLA Panel and several informative displays. Your attendance at this annual event is critical to show support for CLP's efforts.
Also, mark your calendar for CLP's End-of-Season Rally. It will be held September 2, 9:00 am to noon, in a location to be determined. We'll focus on 2017 results and 2018 plans and introduce new Board members and key Advisors and give a special thanks to those who had faith in us and funded and otherwise supported our 2017 activities.
Thanks.
The Chautauqua Lake Partnership
Officers, Board Members and Advisors