Good evening.We hope you'll be in or stopping by Bemus Point this weekend. If so, be sure to take a look at the Bay and shoreline while you're here. Following is a summary of key activities. Feel free to call or email for additional information.
Weed Management Demonstration Project (Data Collection Project): Herbicide treatment of 3 MMS herbicide-approved zones in Bemus Bay was successfully completed on June 26 under a NYS DEC permit to the Town of Ellery and the Village of Bemus Point. A Post-Treatment Weed Survey was conducted in Bemus Bay Treatment Areas and Control Sites on July 20, 2017, for comparison with the May 24-25, 2017, Pre-Treatment Weed Survey.
Informal observations are very positive. Analysis of data has begun with results expected in late August. A Letter to the Editor which appeared in last weeks Jamestown Post-Journal included "(Bemus Bay) lake quality is now the best it's been in fifteen years. The water is clearer, fishing from the dock is now possible and grandkids want to come to the lake and swim!"
Shoreline/Near Shore Demonstration Project: "Back end" equipment and staff "shakeout" began July 17, 2017. 1000′ of Bemus Bay shoreline and over 40 barge loads (~120,000 lbs) of weeds and sludge were removed during the manual operation "back end/staff shakeout". The HydroRake arrived on July 27 and was operational the following day. Optimal integration of the HydroRake and the "back end" equipment and staff, shoreline and near shore cleanup and evaluation of the system's capabilities and limitations will be ongoing through next week. [Photo: HydroRake, Transport Barge and Staff]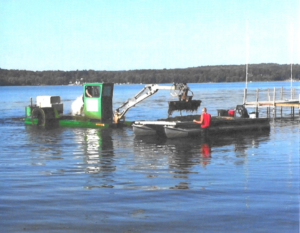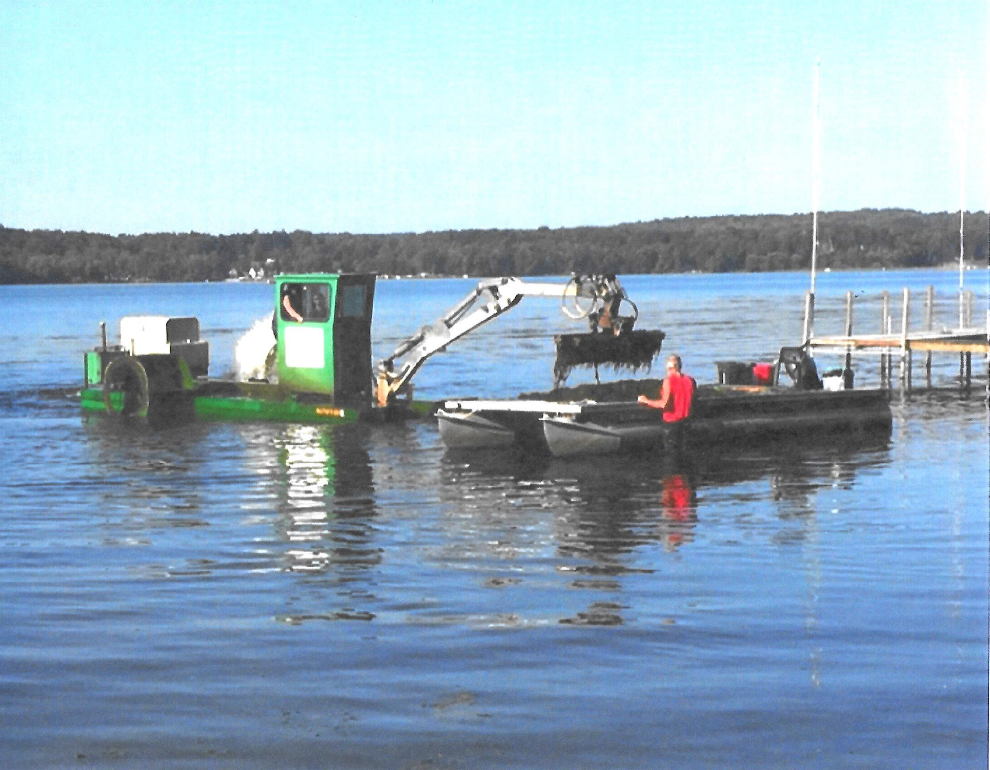 Funding: $155k total = $135k in hand and $20k committed ($10k from Chautauqua County to be matched by $10 from CRCF)
Media: Inaccurate, misleading and in some cases, silly, statements about CLP, Town, Village and NYS DEC activities are being made by proponents of the status quo. A comprehensive summary of CLP views on the lake was published in the Jamestown Post-Journal on Sunday, July 30. Follow the link: https://www.post-journal.com/life/viewpoints/2017/07/chautauqua-lake-needs-new-ideas-leadership/
A CLP website is being funded and developed by Lakeside Drive property owner Jonathan Durkee. Thanks to Jonathan for his leadership and hard work. We're considering (not certain yet) an "End-of-Season Rally" to celebrate the website "go-live" and a successful 2017 CLP Summer, possibly Saturday, September 2 (Labor Day Weekend). If this is something you can assist with, please contact Karen Rines (see cc above).
"Celebrate the Lake Breakfast": The annual Chautauqua Lake lake-wide rally sponsored by the Chautauqua County Department of Planning and Economic Development and the Chautauqua Lake and Watershed Management Alliance will be held at The Village Casino in Bemus Point from 9:00 am to noon on Saturday, August 19. CLP has been asked to participate in a Weed Management Panel with the Chautauqua Lake Association and provide informational tri-fold posters staffed by CLP members.
We need CLP members and others who care about the lake (e. g., friends, neighbors, etc) to attend the "Breakfast", share your feelings about the condition of the lake and Bemus Bay and show visible support for CLP efforts as CLP members. We also need volunteers to assist on the day of the Rally (contact Jennifer Gibson using her address in the cc's above).
Thanks you for your support.
"Chautauqua Lake, A Great Lake Seeking A Greater Future"

Chautauqua Lake Partnership
Dr. Jim Cirbus, President
Jim Wehrfritz, Vice President
Mike Latone, Treasurer
Karen Rine, Secretary
Jennifer Gibson and Jami Henderson, Board Members
Sara DeMink, Fundraising Chairperson
Dr. Tom Erlandson, Biology Advisor