Come hear about the Chautauqua Lake Partnership's weed, algae and weed fragment management programs at the Partnership's 3rdAnnual Memorial Day Weekend Rally. The Rally will be held at The Village Casino in Bemus Point on Saturday, May 25, 2019, from 9:00 to 11:00 am.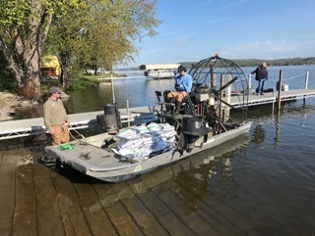 Almost 400 acres in 14 areas of Chautauqua Lake in the Towns of Ellery, North Harmony and Ellicott and the Villages of Bemus Point, Celoron and Lakewood were treated withherbicides over a three-day period, May 15-17, 2019. These treatments will control the invasive non-native weeds Curly Leaf Pondweed and Eurasian Water Milfoil.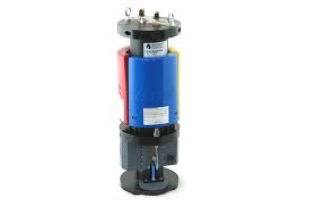 The Partnership has committed $50,000 to fund a pilot Phosphorus Measurement Project lead by the Lake Erie Center for Fresh Water and Human Health, a consortium of eight major US universities including world class experts on Harmful Algal Blooms (HAB's).  The first buoy-mounted sensors should be deployed in the Lake in June.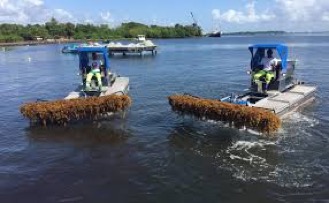 Come see a MobiTrac, an amphibious tracked vehicle, the Partnership's choice for the mechanization of cleanup of weed fragments which accumulate along the Lake's shoreline. The Town of Chautauqua will operate a County-owned MobiTrac lake-wide and a Town-owned MobiTrac along Town of Chautauqua shorelines in 2019. One of the vehicles will be on display outside the Casino on Saturday.  
So, don't miss the Rally this Saturday, May 25, 9:00 to 11:00 am at the The Village Casino in Bemus Point. Refreshments will be served.